Ad blocker interference detected!
Wikia is a free-to-use site that makes money from advertising. We have a modified experience for viewers using ad blockers

Wikia is not accessible if you've made further modifications. Remove the custom ad blocker rule(s) and the page will load as expected.
Dane's little brother Trek is a bit of a copycat. He is always following Dan around and trying to get him to play dinosaurs with him. Of course, that's just because Trek idolizes Dan. Dan loves his brother but finds it a bit of a challenge to include him in his dinosaur research. Surprisingly, Trek will usually end up helping Dan out. Trek's innocence usually points out the simple truth of a situation.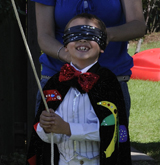 Looks
Trek has a white bowie and white shirt. He wears a black coat.
Trek`s Adventures
5 years after Dan stopped his Dino Experiments Dan asked Trek (By a video message) if he could finish them for Dan. Trek now see`s Dinosaur like Dan and solves Dino Experiments like Dan. With the help of His Friends: Penelope, Bobby, and Hannah.