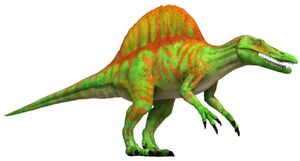 Spinosaurus is a bizarre large (Largest) theropod that lived in North Africa 102 to 93 mya.
Meaning: Spined Reptile Of Egypt
Length:50 feet (15.24 meters)
Height: 13 to 20 feet
Weight:6.8 tonnes/7.5 tons
location:Egypt, Morocco, Niger.
Timeline: 102 - 93 mya
Spinosaurus was shown in a variety of different episodes. Spinosaurus is mostly guest appearing, mostly attacking plant eaters such as Stegosaurus (Moody Dino) and Diplodocus but occasionally will be the main Dino (Dino Sightseeing) Spinosaurus is the last Dinosaur to be shown in both the season and Where the Dinosaurs are as it is shown that all the Dinosaurs from the whole season are appearing in the end of the series. The Spinosaurus roars one last time before the episode`s end slowly fades away into black and the Season Ends.
Ad blocker interference detected!
Wikia is a free-to-use site that makes money from advertising. We have a modified experience for viewers using ad blockers

Wikia is not accessible if you've made further modifications. Remove the custom ad blocker rule(s) and the page will load as expected.