Dan's pal Ricardo is sporty and into all things extreme. Athletic and a team player, Ricardo believes in himself without coming off arrogant. He leads not by telling other people what to do but by example. He would stand up to a bully, a teacher, or a parent if he thought they were wrong
but he doesn't talk back and he's not a troublemaker. Ricardo is street smart and, very cute. He has Long Lucio use Hair
Ricardo has pate skin and black hair. His shirt is red and his undershirt is gray. He has blue and black pants.
Is poor and does not have to eat
He is innocent, idiot and fool
His house is there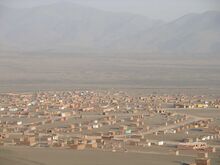 Appearances
Ricardo has appeared in most episodes of Dino Dan. His first appearance was in The Chicken or the Dino.
Ad blocker interference detected!
Wikia is a free-to-use site that makes money from advertising. We have a modified experience for viewers using ad blockers

Wikia is not accessible if you've made further modifications. Remove the custom ad blocker rule(s) and the page will load as expected.