Jordan Miracles can be slightly awkward. Well, that is unless you get her talking about bugs or spiders . . . then she's as animated and bubbly as you can imagine. All of Jordan's clothes, accessories, and school supplies are bug-themed. She doesn't just love creepy-crawly bugs she also loves the pretty ones (butterflies and lady bugs are big-time favorites!). Jordan keeps a menagerie of spiders and bugs in her bedroom and sometimes . . . they get loose! She is just like Dino Dan.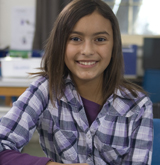 Looks
Jordan wears a pad shirt and has brown hair. She has peach skin and purple sleeves.
Appearances
Jordan has appeared in most episodes of Dino Dan.
Ad blocker interference detected!
Wikia is a free-to-use site that makes money from advertising. We have a modified experience for viewers using ad blockers

Wikia is not accessible if you've made further modifications. Remove the custom ad blocker rule(s) and the page will load as expected.