Ten-year-old Dan Henderson is a born leader with an appetite for adventure. Incredibly curious, Dan has an intense love of dinosaurs. He's an aspiring paleontologist and he's such a fan of dinosaurs that he's been nicknamed "Dino Dan." When Dino Dan has a dinosaur question, he goes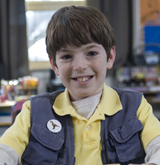 to the dinosaurs for the answers. Dan and the dinosaurs have a very special relationship because Dan is the
only one
who can see them. He uses the dinos to gather evidence, data, and proof of his theories. Dan has to work with the dinos' natural animal instincts in order to get them to cooperate. Whether the reason Dan is the only person who can see the dinosaurs is because they're not actually there or because they only come out from hiding when Dino Dan is around . . . well . . . that's up to the audience to judge. For all intents and purposes, the dinosaurs are there and the reason Dan's the only one who sees them is because everyone else just missed them.
Looks
Dan has peach skin and brown hair. He wears a blue vest and a yellow shirt. Dan's pants are tan. His eyes are brown.
Appearances
Dan has appeared in every episode of Dino Dan. His first appearance was in The Chicken or the Dino
Gallery
Ad blocker interference detected!
Wikia is a free-to-use site that makes money from advertising. We have a modified experience for viewers using ad blockers

Wikia is not accessible if you've made further modifications. Remove the custom ad blocker rule(s) and the page will load as expected.